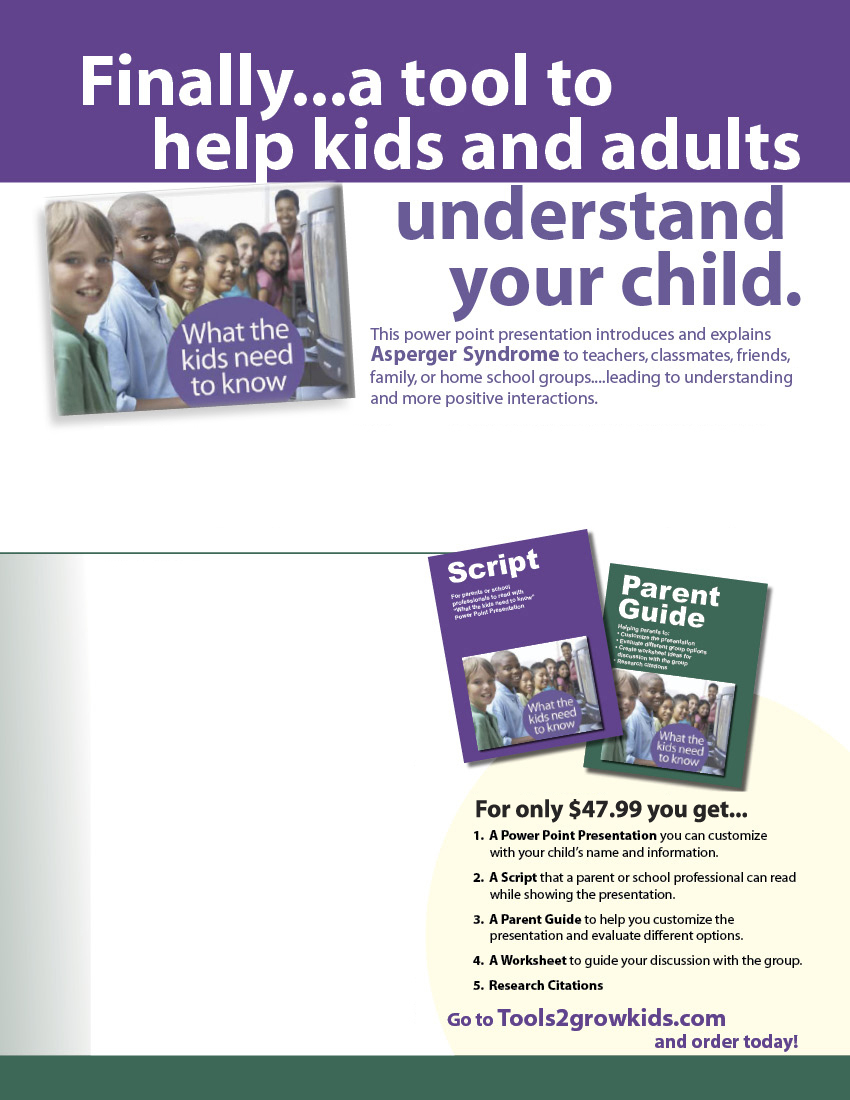 Kids with Aspergers Syndrome often have trouble making and keeping friends. They seem odd or different to peers, which can lead to teasing or bullying.  Bullies target these students at a rate that is at least four times higher than their peers in school, with the top reported maltreatment being shunning.

Research shows that peers in the classroom have more positive attitudes, better understanding, and greater acceptance of children with Aspergers Syndrome when they have clear, accurate, and straightforward information about the disorder. When kids are taught specific strategies, they will interact more with peers in more positive ways.

Who is this for?

1. Parents who have a child diagnosed with Aspergers Syndrome to use when explaining their child's  behaviors and needs to family, friends, school or home school groups

2. Teachers or counselors to use in a classroom setting when explaining Aspergers Syndrome to students

What does this do?

The presentation helps peers, friends and family understand Aspergers in an accessible, positive and impactful way.  You customize it to describe and explain your child's behaviors as well as strategies to support better relationships.

Why would I want to use this?

Sharing this information with others will help them to better accept your child. This will support your child's process of gaining self acceptance.

Who developed this?

This presentation was originally developed by Ruth Bielobocky, a parent whose son has Aspergers Syndrome, as a tool for use in his 6th grade classroom. Following the success he experienced, she worked with Barbara Luborsky, OTR/L, a pediatric occupational therapist. Together they wrote the Parent Guide which tells users how to customize the presentation and documents research supporting the validity of this approach.